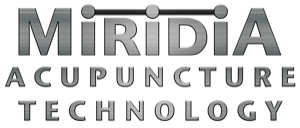 An ISO 13485 Certified Company
Miridia Technology Inc. was founded with the purpose of providing cutting-edge healthcare technology to the acupuncture industry. Our products reflect our commitment to the highest standards of quality, effectiveness and ease of use. Our philosophy is that the combination of modern technology and traditional healing wisdom, makes the user's life easier, and the patient's life better.
Do you need to send us a message? Click here to contact us.
Miridia Technology Inc.
1875 N. Lakes Place
Meridian, ID 83646

Telephone: 208-846-8448

Company
Headquartered just outside beautiful Boise, Idaho, USA, Miridia Technology develops and markets a variety of cutting-edge acupuncture-related products, including AcuGraph—the world's most advanced meridian imaging system.
We welcome suggestions and input from our customers. Please do not hesitate to contact Miridia with your ideas and suggestions.
Our quality management system at Miridia Technology Inc. is certified to the ISO 13485 standard.


Our Mission
Miridia Technology uses common sense and cutting-edge technology to improve people's lives. We believe that our customers' needs for speed, ease and convenience are the best reasons for our products to exist, and that meeting those needs with integrity leads to success.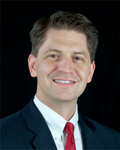 President: Adrian P. Larsen, D.C., F.A.S.A., C.Ac.

Adrian P. Larsen received his Doctor of Chiropractic degree (Magna Cum Laude) in April, 2004 from Logan College of Chiropractic in St. Louis, MO, where he also received his Bachelor's Degree in Human Biology. While at Logan, he received his certification in acupuncture, and passed the NBCE acupuncture exam. His interest in acupuncture led him to consider why a process as powerful and valuable as meridian graphing was also so cumbersome.

By applying state-of-the-art digital technology and programming, he and his team designed and developed AcuGraph, the gold standard in Digital Meridian Imaging.

Adrian also holds certifications in Applied Kinesiology and CPK, and has specialized training in SOT and craniopathy.

Adrian graduated from Brigham Young University in 1995 with his Bachelor's degree in Business Management. He spent the next 5 years in the mortgage business, reaching the level of Vice President of Operations.

Dr. Larsen researches, writes, and teaches on acupuncture topics worldwide. He, his wife, and 7 children reside in Meridian, Idaho.

Technical Advisor: Dennis Baker, D.C., F.I.A.M.A. (Adv.)

Dr. Dennis Baker is a 1974 graduate of Bucknell University with a B.S. in Business Management and a 1977 graduate of Logan College of Chiropractic.

He has utilized acupuncture in his practice throughout his career and has taken extensive training in acupuncture from numerous instructors along with 2 study trips to China. He holds fellowship status in the International Academy of Medical Acupuncture, and in the Acupuncture Society of America.

Dr. Baker has taught numerous acupuncture classes around the country for the past 12 years, concentrating on utilizing electronic graphing techniques as the major diagnostic tool. His goal is to make the practice of acupuncture as simple as possible while still achieving fabulous results in as few visits as possible.

Cameron Larsen - General Manager

After working part-time with the original AcuGraph development team for more than a year, Cameron joined Miridia Technology full-time in May, 2005. As General Manager he is involved with general operations of all aspects of the company, including inventory control, marketing and sales, new product development, and operational system development. Cameron is heavily involved with international sales channels and distributor operations.

Cameron received a Bachelors degree in Business Management, with an emphasis in Multimedia Design, from Southern Virginia University in 2005.

Kimball Larsen - Chief Information Officer

Kimball has been involved with AcuGraph from the beginning. While Kimball was still attending school full time, Dr. Larsen approached him with the original idea for AcuGraph. Approximately a year later the first version was released. Kimball continued to work on AcuGraph part time while pursuing a career in software engineering elsewhere until April of 2007 when he finally joined the staff of Miridia Technology full time.

As Chief Information Officer, Kimball continues to do nearly all the software development for AcuGraph and our various iPhone applications, as well as oversee all other aspects of the company's technology needs and initiatives including all phases of product design and development from conception to end user support.

Kimball earned a Bachelors of Science in Computer Science from Brigham Young University in 2003, is married and has 3 children. In his spare time he enjoys flying remote control planes and spending time with his family.

Sharon D'Arcy - Office Manager

Sharon joined Miridia Technology in the fall of 2006. She immediately took over all of the bookkeeping, shipping and receiving, miscellaneous office functions, and customer service. As we've grown and added employees, she continues to do all of the bookkeeping, manages inventory control, oversees most office functions, and is the official ISO Representative.

Sharon completed all of her accounting courses at Foothill Jr. College in Los Altos, CA, and has over 30 years experience working both as an Office/Business Manager, and as a consultant for small businesses. She is happily married, and the proud mother of 4 children. She loves animals and gardening, and is a die-hard American Idol fan.

Kimberly Thompson, L.Ac - Research Analyst

Kimberly is a licensed acupuncturist in the state of Idaho and certified in the treatment of acupuncture, Oriental Medicine, and Chinese Herbology by the National Certification Committee of Acupuncture and Oriental Medicine (NCCAOM). Her professional affiliations include membership with the Idaho Board of Acupuncture. She joined Miridia Technology, Inc in January, 2010.

Kimberly earned her MSTOM, Masters of Science in Traditional Oriental Medicine, from Pacific College of Oriental Medicine. Kimberly specializes in acupuncture, Chinese herbs, and massage therapy and holds a passionate regard for the study and practice of Chinese Medicine. She utilizes one of the most important tenants of the medicine in every treatment, which involves treating the "root", or underlying cause of each patient's symptoms, in order to ultimately balance both the physical and emotional manifestations of disease.

Kimberly is happily married mother of 9 children. She enjoys cooking, traveling, reading, camping, and bike riding in her "spare time".

Alan Gifford - Practice Consultant

Alan is our newest addition to the team. After completing his Masters degree in Exercise and Wellness from Arizona State University, Alan spent years working with Alternative Healthcare practitioners to increase patient volume, satisfaction, and retention. He will be working directly with Miridia clients to enhance their practice and patient experience. We're excited to have his knowledge of business, health, wellness and practice management available for you. In addition to English, he is fluent in Spanish and will assist in developing our latin market presence while working with our Spanish-speaking customers and distributors.

Alan received his Bachelors degree in Applied Psychology from Arizona State University and has over twenty years of experience in marketing, sales and business management. He holds certificates from the National Strength & Conditioning Association and the National Academy of Sports Medicine. In addition, he is a Certified Qigong Instructor; Level-1 Qigong Healing Form, Breath Empowerment & Nine-Breath Method. An avid exerciser, he holds a Black Belt in Tae Kwon Do and enjoys participating in all sports. He is married and the father of four children, four step children and enjoys five grandchildren!
Trademarks

"AcuGraph" and "Digital Meridian Imaging" are registered trademarks (®) of Miridia Technology Incorporated, registered in the U. S. Patent and Trademark Office. "See the Chi," "AcuHerb," and "Evidence-Based Acupuncture" are trademarks (™) of Miridia Technology Incorporated. All Rights Reserved.


Privacy Policy

We protect the privacy of our customers. Any information provided to Miridia Technology, Inc., including but not limited to information requests, promotional participation, or order completion will be held strictly confidential and will never be sold or given to any third party unless required by law. From time to time we will notify our customers of product updates, new products, or other pertinent information. Customers can unsubscribe from these messages at any time by clicking on the "unsubscribe" link in any of these email messages for immediate removal.